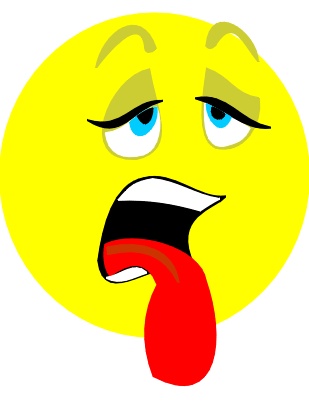 This weekend I visited my sister who lives in Santa Claus, IN.  She has a great little lake to fish in, and I spent all day Saturday on the lake getting sunburned and catching the occasional bluegill.  The fish weren't biting like they usual do, but a bad day fishing is better than a good day at work.  Usually the fish there don't even give you time to sip on your drink.  Every time you reach for your can, a fish notices this and gets itself hooked on your line.  This time we only caught about 50 bluegill.  Which gave me plenty of time to down my frosty libations.  Hooray for beer.
Before I went down to Santa Clause I pulled up Google Earth to see what the caching scene was like in that area.  Boy was I surprised.  There are over 50 caches within 5 miles of my sisters house!  Well I couldn't miss this opportunity.  So I called up my caching brother Tommy (Lyncher) and told him to get down to Santa Claus on Sunday and let's spend the day caching.  Tommy was so excited about the idea he came on Saturday and camped out in the cold so we could get an early start.  We had to start early or we would have froze to death.  We were more than happy to start at first light, just to get in the car and out of the cold.
The first cache we attempted was
Agent P
by
Odyssey Posse
.  It's an interesting puzzle that took me a while to figure out.  I was on the right track but couldn't quite figure out the last part of the West coordinates.  I tried a few different things, but every time I would check my answer with Geochecker.com it would say I was incorrect.  I showed a friend the puzzle and he immediately came up with the same idea that I had, and after a few minutes he figured out the whole thing.  Now came what I thought would be the easy part, finding the thing.  But as I would learn through out the day, no hide is easy when it come to Odyssey Posse.  Tommy and I arrived in the area, and it was relatively muggle free.  I let Tommy circle around the cache area for a bit while I fished out my phone/GPSr.  He looked all over where he thought it ought to be but he didn't have any luck.  So now it was my turn.  I walked right up to the spot and said, "Here it is Tommy." and retrieved the cache.  Experience pays off, because I had seen a hide like this before (Thanks Prarie Partners).  One Odyssey Posse puzzle down, now off to Framed!
Framed!
is going to go down as one of my all time favorite caches.  The puzzle part I figured out with a little help from Google and Odyssey Posse's hint.  The find was a whole other problem.  Tommy and I kept circling and prying and proding in this one particular area, over and over again, with no luck.  One thing we learned over the day, is don't try to find any of OP's caches with a preconcieved notion of where to look.  Because it's not going to be there!  I had in my head that it was going to be in this certain area, and I looked and looked, and looked, but no luck.  I even double checked the coordinates in my phone, making sure they were the solved puzzle's coordinates, and not the incorrect ones posted on geocaching.com.  Finally I grabbed Tommy's GPSr and I walked around with both of our GPS units in my hands until I came to a spot where they both agreed upon, which was about 60 feet away from where I had been looking.  Doh!  This brought me to a whole other object that I had to search all over, but still no luck, when finally after about another 10 minutes of searching in vain, I looked over and saw it about 20' away, somewhere Tommy and I thought it could never be.  But there it was.    Diabolical came to mind, and not for the last time that day.  This has got to be the most unique cache container ever.  I wish I could share but I don't want to ruin the find.
Before the day was up we found 47 caches, 25 of them by Odyssey Posse.  Almost of all of them were unique in some way.  Tommy couldn't retreive the
Ultimate Sacrafice
because he was too hungry and his hands were shaking.  After reading the words on the bench he felt the same way as OP, and was a little leary of eating there, but the food inside was just fine. 
Who Let the Dogs Out
was another one that gave us fits for about 15 minutes until Tommy spotted the little devil.  It took us another 15 minutes to sign the log and get the bloody thing put back in it's container.  We cursed OP's name for hours after that one. 
Signs
was another find that we assumed where it was going to be and we weren't even close. 
Rural Legends
had us stumped for a quite a while until Lyncher spotted the needle in the haystack.  Odyssey Posse gave us one of the best days of caching anyone could ask for.  Any one of his caches could be considered a destination in of itself, and Tommy and I got to find 25 of OP's well thought out, interesting caches in one day.  Hooray for us.  Hooray of Odyssey Posse!
Odyssey Posse isn't the only great hider around though.  We found some great ones in the woods hidden by
Daggy
.  Four of them near the beautiful Colonel Jones Home located in part of Lincoln State Park.
Trailside Tower
was one of our favorites.  We looked for quite awhile on this one until Tommy happened to spot it.  Spotting it was one thing, actually putting our hands on it and signing the log was another.  Weee. 
Kermit
was another fun one.  Tommy was standing right next to it, and I said, "Check along there.  I bet judging from the name your close to it."  So he walks on by it and looks in some stump, (he said he was peeing, but I don't believe him)  I walked up to where he was and found it right away.  It was also in a very neat container. 
We found some neat caches hidden by
Dr. Who and K-9
, and some difficult ones hidden by
Squire Boone
.  Dr. Who and K-9's caches took us to a little park in Santa Claus called Yellig Park, where all the roads nearby have football names.  Tommy and I are suckers for football.  But we were a little disappointed to see a soccer field on Super Bowl Rd.  I hate soccer.  Squire Boone had a few devious hides.  We thought
Riverwalk I
in Jasper was going to be a cakewalk from the description, but no such luck.  Fortunately (I think) it had just stormed and there was no one on the trail, so Tommy and I had plenty of muggle free time with this cache.  It would be hard to explain what you were doing if you were caught red handed on this hide. 
Sub
was another neat cache from Squire Boone.  On the way to it I read the hint and told Tommy what I thought it was going to be, and I'm sure he thought I was a little crazy.  As soon as we pulled next to it, I told Lyncher, "There it is!" and I had it in my hands before he could hardly get out of the car.  Experience strikes again.  Another one of note was
Movie Cache: Hard Rain
by Squire Boone.  It was based on the movie Hard Rain shot in Huntingburg at the cemetery the cache is located in.  We had no sooner put our ink on the log and shut the ammo can when it started pouring down rain.  The day had started out as being a glorious 65 degrees and sunny, but this cache lived up to it's name and put a slight damper on part of the day.  We were kind of hoping it would rain enough to be able to ride jet skis through the school, but it quit in a couple of hours.  Since we were in Huntingburg and doing movie themed caches, we decided to find A Cache of their Own, another hide by Odyssey Posse.  I had never seen this stadium in the flesh.  It's pretty neat.  My sister was an extra in the movie they shot here A League of their Own.  This cache is probably one of OP's easier caches except for the fact that it was pouring down rain.  Tommy and I didn't mind getting a little wet since we were properly kitted out, but my phone/GPSr is not waterproof.  So I took a bearing from the car, judged the distance and swam over to the cache area.  Did I mention it was storming?  Tommy had came to the same conclusion and OP's hint matched what we thought ,so we started poking around.  Somehow, an animal of some sort, a dog maybe?, had done it's business mere inches from the cache.  After seeing all of these crazy containers OP had thrown at us all day, I thought maybe this was one of those fake dog doo hide a key containers, but after poking it with my boot I was sadly mistaken.  Fortunately it was raining hard enough that in the swim back to the car my boots were pretty clean.
After the day was through, we had found 47 caches, 15 ticks, 4 other Geocachers, no mushrooms, and one awesome sunburn.  My new personal best for a one day total.  We averaged finding a cache every 15 minutes for 12 straight hours.  Not bad considering 12 of the caches we had to hike to in order to find, and we stopped and ate for about an hour.  Now to log all of these.  TFTH OPYMB