Besides being from New York, the Yankees give us another reason to hate them. Forced patriotism. I found this on
Dvorak Uncensored
.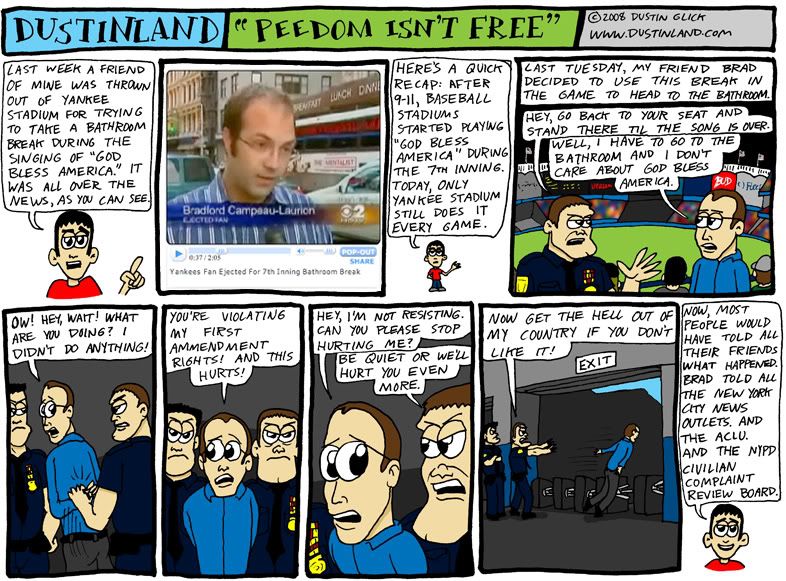 "I attempted to get up to use the restroom, rather urgently, during the 7th inning stretch as God Bless America was beginning. As I attempted to walk down the aisle and exit my section into the tunnel, I was stopped by a police officer. He informed me that I had to wait until the song was over. I responded that I had to use the restroom and that I did not care about God Bless America.

"As soon as the latter came out of my mouth, my right arm was twisted violently behind my back and I was informed that I was being escorted out of the stadium. A second officer then joined in and twisted my left arm, also in an excessively forceful manner, behind my back. I informed them they were violating my First Amendment rights and that I had done nothing wrong, with no response from them.

"I was sitting in the Tier Level, and of course this is the highest level of the stadium and I was escorted in this painful manner down the entire length of the stadium. About halfway down, I informed them that they were hurting me, repeated that I had done nothing wrong, and that I was not resisting nor talking back to them. One of them said something to the effect that if I continued to speak, he would find a way to hurt me more.

"When we reached the exit of the stadium, they confiscated my ticket and the first officer shoved me through the turnstiles, saying 'Get the hell out of my country if you don't like it.'

"Nowhere on the Yankee Stadium ticket policy nor on any posted sign does it say that forced patriotism is a required element to attend a baseball game. Nowhere in the laws of this country would that begin to be defensible.

"Furthermore, when the two officers returned to their section, Steve who was still in the stadium overhead one of the officers say 'We got to watch ourselves. One day we're really gonna get in trouble.' They were also spreading rumors with a fan with whom they were friendly that I had said 'This country sucks.'

"I do not believe in God, nor am in support of this country to a degree of patriotic fanaticism. The fact that I wanted to use the restroom instead of standing through God Bless America should not be grounds for a forcible ejection from a baseball game."
So you mean to tell me the National Anthem is not enough? Now we have to endure "god Bless America" also. One of my "pet peeves" is the singing of the National Anthem at every little league baseball game, church picnic, kindergarten graduation, pre-season football game, and nursing home backgammon championships. Enough is enough. It deludes the meaning if you spout it out at every meaningless sporting event. It is just a way for the promoters of the event to appeal to the Skoal chewing Nascar crowd. I don't need the National Anthem to validate A-Rod's home runs. And the sleaziness of sports just cheapens the significance of a meaningful verse.